1st Screen
Idlers' Logic
Single-Channel video
mini-DV, 24 minutes
Year of production: 2003
Prizewinner Daka'Art Biennale 2004

Public Collections:
Horcynus Orca Foundation, Messina, Italy

Public Screenings:
Dakar Biennale 2004, Senegal
Horcynus Orca Foundtion, Messina, Italy 2005

Synopsis
Three actors mingle and interact without dialogue in a closed space.
The 24 minutes experimental film explores, through acting and the
reassemblage of stock footge extracted from film, advertising and theater
plays of the Egyptian sixites, seventies and eighties of the twentieth century,
notions of identity and what it is to be Arab, African and Middle Eastern in a post-September 11 world.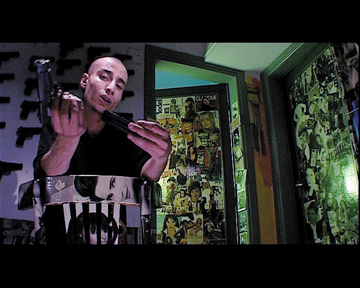 2nd Screen

Visions of a Contaminated Memory
Three-Channel video installation, 5 minutes, 2007
mini-DV, stock images and footage & text
Producer: Khaled Hafez & Sharjah Biennale
Year of production: 2007
(single-channel adaptation)
Public Screenings:
Sharjah Biennale, UAE, 2007
Kunstmuseum Bonn, Germany, 2007
Synopsis
This 5-minute three-channel video project (U-shaped projection) takes a comparative visual
approach to past and present in the same city of Cairo: architecture, people, personal tastes
and beliefs. The right screen shows overlapping imagery of deserts and Cairo people from the
twenties till the fifties of the twentieth century. The left screen shows overlapping imagery of
water currents and Cairo people of the new millennium. This juxtaposition is split by the front
projection that shows manipulated deja-vu materials from the official media machine of a
military coup-d'état / revolution.
3rd Screen

The Third Vision: Around 1:00 pm
Video Installation in four screens
or Single-channel video, 5 minutes
mini-DV, stock images and footage, text & original music score
Producer: Khaled Hafez
Year of production: 2008
Public Screenings:
Guangzhou Triennale 2008
Thessaloniki Biennale 2009
Palazzo Piozzo, Rivoli, Turin, Italy, 2009
South Hill Park, Bracknel, UK, 2011
The Pier-2 Art Center, Kaohsiung, Taiwan, 2012
Public Collections:
Sate Museum of Art, Thessaloniki, Greece.
Synopsis
The Third Vision: Around 01:00 pm is a nostalgic narrative of visuals that I keep in my
memory and that shape my practice today. The use of stock photographs, images and audio
in this assemblage creates a hybrid story that actually took place in my personal life in the
same timeline as seen onscreen. I used the modern changing social and military histories of
Egypt to create the principal structure of the work.