Biography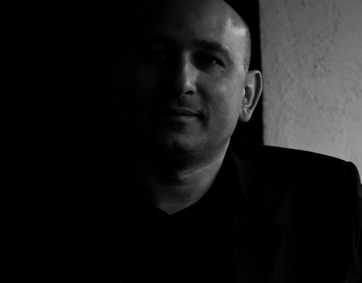 Khaled Hafez
is born in Cairo, Egypt in 1963 where he currently lives and works. He studied medicine and followed the evening classes of the Cairo School of Fine Arts (Faculty of Fine Arts) in the eighties. After attaining a medical degree in 1987 and M.Sc. as a medical specialist in 1992, he gave up medical practices in the early nineties for a career in the arts. He later obtained an MFA in new media and digital arts from Transart Institute (New York, USA) and Danube University Krems (Austria). Hafez practice spans the mediums of painting, film / video, photography, installation and interdisciplinary approaches. Hafez is a Fulbright Fellow and Rockefeller Fellow.

International group exhibitions include:
57th Venice Biennale, Italy, 2017 (National Pavilion Grenada)
2nd Asuncion Biennale, Paraguay, 2017
Curitiba Biennale '17, Brazil, 2017
56th Venice Biennale, Italy, 2015 (Official Collateral Biennale Exhibition)
3rd Mardin Biennale, Turkey, 2015
6th Moscow Biennale, Russia, 2015
1st Trio Biennale, Rio De Janeiro, Brazil, 2015
1st Bienal del Sur, Caracas, Venezuela, 2015
15th Fotofest Biennale, Houston, USA, 2014
55th Venice Biennale, Italy, 2013 (National Pavilion maldives)
11th Havana Biennale, Cuba, 2012
9th Bamako Photo Biennale, Mali, 2011
8th Mercosul Biennale, Brasil, 2011
12th Cairo Biennale, Egypt, 2010
Manifesta 8, Murcia, Spain, 2010
2nd Thessaloniki Biennale, Greece, 2009
3rd Guangzhou Triennale, China, 2008
7th Sharjah Biennale, UAE, 2007
1st Singapore Biennale, 2006
6th & 7th Dakar Biennale, Senegal, 2004 & 2006

Hafez works were shown at:
Museum of Mohamed Mahmoud Khalil, Egypt, 2019
Museum of Fine Arts, Alexandria, Egypt, 2019
Museuo Provincial de Holguin, Cuba, 2016
American University Museum, Katzen Art Center, DC, USA, 2019
Tirana National Art Gallery, Albania, 2016
Kosovo National Art Gallery, 2016
Crete Museum of Contemporary Art, 2016
The Worker and the Kolkhoz Woman Museum, Moscow, 2015
Uppsala Museum of Art, Uppsala, Sweden, 2014
Art Sonje Center, Seoul, Korea, 2014
National Gallery of Arts Tirana, Albania, 2014
The Studio Museum in Harlem, NY, USA, 2013,
Cultuurcentrum Brugge, Belgium, 2013
Rijksmuseum Volkenkunde, Leiden, The Netherlands, 2013
British Museum, UK, 2012
Havremagasinet Bodens Konstcentrum, Sweden, 2012
Hiroshima Museum of Contemporary Art, Japan, 2012
State Museum of contemporary art, Thessaloniki, Greece, 2011, 2013 & 2015
Museum of Contemporary Art, Roskilde, Denmark, 2007 & 2011
Instituto Tomie Ohtake, Sao Paolo, Brazil, 2011
Yuchengco Museum, Manila, Philippines, 2011
The Herbert F. Johnson Museum of Art
, Icatha, NY, USA, 2010
The New Museum NY, USA, 2010
Casa Arabe, Madrid, 2010
Saatchi Gallery, London, UK, 2009
The Queens Museum, NY, USA, 2008
Institut du Monde Arabe, Paris, France, 2008, 2012, 2014 and 2018
MuHKA Museum of Art, Antwerp, Belgium, 2007 & 2011
Kunstmuseum Bonn, Germany, 2007
Bamako National Museum of Art, Mali, 2007, 2011 & 2015

Special Video Screening Programs
Tate Modern, London, UK, 2007
Centre George Pompidou, Paris, France, 2010 & 2012
Film Festivals Include:
2nd Arctic Moving Image & Film Festival – AMIFF 2017
14th Tirana International Film Festival
41st Rotterdam International Film Festival 2012
15th International Short Film Festival Winterthur, Switzerland, 2011
CPH:DOX/ Copenhagen Film Festival, Denmark, 2011
17th African Film Festival, New Museum, New York, USA, 2010
8th Ismailia International Film Festival, Egypt, 2004

Awards include:
Fulbright Fellowship, (Pennsylvania Academy of the Fine Arts, PA), USA, 2005
Rockefeller Bellagio Fellowship, Italy, 2009
Francophonie Prize, 6th Dakar Biennale, Senegal, 2004
Fondation Blachere Video Prize, 9th Bamako Photo Biennale, Mali, 2011

Nominations Include:
2015 – Jameel Art Prize (long list)
2012 – The 4th Prix Pictet Photography Prize (long list)
2011 – The Sovereign African Art Prize (Photography Shortlist)

Public Collections: 

The British Museum, London, UK
National Museum of Art, Vladikavkaz, North Ossetia, Russia
National Center for Contemporary Arts (NCCA), Moscow, Russia
The Saatchi Collection, London, UK

MuHKA Museum of Contemporary Art, Antwerp, Belgium

Ars Aevi Museum of Contemporary Art, Sarajevo, Bosnia

Horcynus Orca Foundation, Messina, Italy

Mali National Museum, Bamako, Mali

Maraya Art Centre, Barjeel Art Foundation, Sharjah, UAE
State Museum of Art, Thessaloniki, Greece
Bibliotheca Alexandrina, Egypt
Museum of Modern Art, Cairo, Egypt

Published / Authored
Egyptian Hyperreal Pop: The Rise of Hybrid Vernacular, LAP LAMBERT Academic Publishing (October 8, 2012), ISBN-10: 3659254142, ISBN-13: 978-3659254147.
In Reference
2001 Maria Golia, Marilu Knode, William Wells and Janine van den Ende. Cairo Modern Art in Holland. The Hague: Fortis Circustheater Publications, 2001, 128–137.
ASIN: B000Y2ALHG.

2005 Liliane Karnouk. Modern Egyptian Art 1910-2003. Cairo:

American University in Cairo Press, 2005, 240-241.
ISBN-10: 9774248597 ISBN-13: 978-9774248597
2009 Martina Corgnati. Egitto: Profilo dell'arte Moderna e Contemporanea dei Paesi Mediterranei. Milano; MESOGEA Publishers, 2009, 95–96, 154.
ISBN-10: 8846920775 ISBN-13: 978-8846920775

2009 Hossein Amirsadeghi, Salwa Mikdadi and Nada Shabout, eds. New Visions: Arab Contemporary Art in the 21st Century. London: Trans Globe Publishing & Thames & Hudson, 2009. 142–145.
ISBN-10: 0500976988 ISBN-13: 978-0500976982

2009 Lisa Farjam & Saatchi Gallery. Unveiled: New Art from the Middle East. London: Booth Clibborn Editions, 2010, 60–61. ISBN-10: 1861543131 ISBN-13: 978-1861543134

2010 Saeb Eigner. Art of the Middle East: Modern and Contemporary

Art of the Arab World and Iran. London & NY: Merrel Publishers
Limited, 2010, 122.

ISBN-10: 1858945003 ISBN-13: 978-1858945002.
2011 P. Alonzo, A. Bieber, M. Hübner, G. Jansen, R. Klanten. Art & Agenda: Political Art and Activism. Berlin: Gestalten, Booth-Clibborn Editions, 257. ISBN-10: 1861543131 ISBN-13: 978-1861543134.
Khaled Hafez